April 28, 1998

Hello Everyone,

I should start off by claiming I am still alive, but barely. This last year in grad school can slip by you very fast. Yeah, still going to try to submit this autumn. Run out of money you know? Project sort of completed, but with instrumentation, it can go on... and on...

Well, my baby COHSI (Cambridge OH Suppression Instrument) had her maiden voyage across the Pond, continent, and Far Sea to the isle of Hawaii in March. The moment I had waited 3.5 years for was about to become a reality. We had nights 19 and 20 and 25-29th of March on UKIRT (United Kingdom Infrared Telescope) on Mauna Kea (Big Island of Hawaii). Broken schedule for two reasons: 1) If we had problems after two nights on the telescope, we would have four days to scratch and think ourselves through them (COHSI is a very complicated instrument which demonstrated a lot of NEW stuff) and 2) a conference (SPIE) on infrared instrumentation (held every four years so a *big* one for us) was scheduled during that gap. We negotiated our observing time to allow us to present a poster. Actually we had hoped for oral talks, but I think our poster did much better as a poster. So yeah, night schedule, day schedule, night schedule... Yipers!

I won't bore you with the details. Heck, if you are interested in the observing run and the current status of COHSI, just check out the links I am soon to create for it at:
---
COHSI Current Status April 1998
http://www.ast.cam.ac.uk/~optics/cohsi/
---
It was a frustrating, stressful, exciting, *you name it* experience. I worked very hard to get as much information about the instrument as possible. We had one downer-the instrument lost 10x the amount of light predicted for it. This meant it failed as a faint object spectrograph since it would just take days to get a good signal. Ian (the boss) and I tried everything we could think of to peak up the signal, everything that we could address at the summit that is. We even broke the 14 hours in a 24 hour period at the summit regulation, since we had hours of alignment and realignment and testing during the day in addition to work at night. It was a very tiring three weeks.
---
Photo of UKIRT-a 3.8m diameter infrared optimised telescope.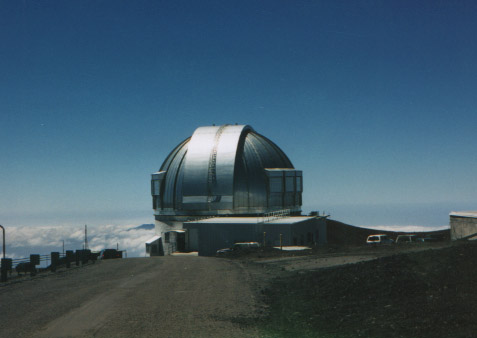 ---
Photo of the new GEMINI (North) telescope-a 8m diameter optical/infrared telescope scheduled for 1st light late this year. COHSI is hoped to be a first light visitor instrument for GEMINI next year.

---
Life at 14,000 feet. No vegetation on the summit of Mauna Kea.

---
Mauna Kea Observatories: TOP (l to r) SUBARU (Japan), Keck II and I (Caltech, UCalifornia, UHawaii), NASA IRTF, CFHT (Canada-France-Hawaii), GEMINI (US,UK,ESO,Hawaii,etc), UofH 2.2meter (UHawaii), UKIRT (UK-Netherlands-France); BOTTOM (l to r) Smithsonian SMA (submillimeter) to be built [shed shown], JCMT (UK-Netherlands-France), CSO (Caltech Submillimeter Observatory)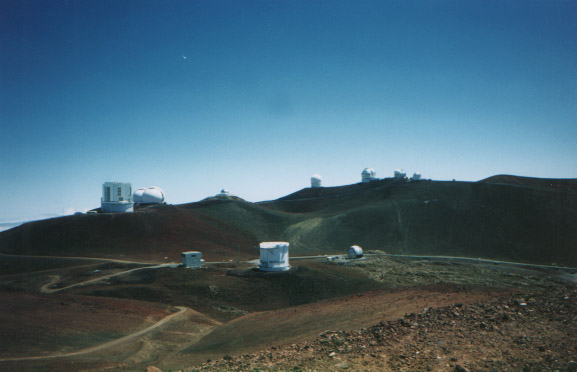 ---
I did manage to get a chance to go snorkeling in Oahu in Hanauma Bay (the south-east coast of Oahu) the day before we left for the 3 weeks on the Big Island. That was a load of fun, especially jet lagged from England. And Ian and I gave a joint talk at the Joint Astronomy Center in Hilo (Big Island) a few days before our nights on the telescope and took a 5mile trek out to see the newly forming lava beach. Wow, that was amazing. My automatic idiot-proof camera failed to take any photos in the dark, but Ian took some very good video clips which I hope to change into MPEGs. So stay tuned on that point.

I learned a great deal from the observing run. The downside is that I won't have any astronomical data for my thesis. That sure has me bummed out, even though I have been told I have more than enough for a thesis. I had been looking forward to sinking my teeth into some research. The run also added more work to my remaining time here in England. I am to help fix COHSI. I have some ideas and the dewar gets back on the pump this week. With luck, our guess that the throughput problem was due to the cold fiber feed (the only thing we could not fix at the telescope) will be correct. If so, we run a few more tests and apply for telescope time in the autumn. I am expected to submit in September so a second run will occur after my submission. The experiments over the next month will strengthen my thesis contents. But one can only hope!!!
---
Me and my COHSI (1/2 taken apart as Ian and I tried to improve the throughput).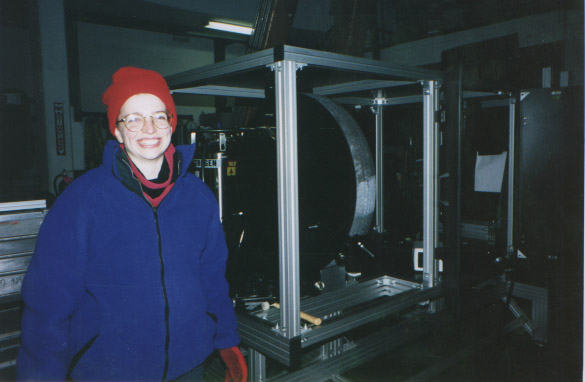 ---
After the run, exhausted and bummed, I stayed with my friends Karen and Fritz in Honolulu for a few days. I then continued my journey east with a stop-over in Wyoming to see Doug. I had a simple request for him TAKE ME AWAY FROM CIVILISATION :) Hard to do sometimes. I had worked so hard for so long to get COHSI ready. Now I just needed to recharge my batteries.

So he did! Doug planned out a wonderful 8 day excursion back to southern Utah. Canyonlands country. I have very fond memories of my first adventures in the SW last March (1997) that I sure was looking forward to this trip!

This time we had Doug's car, the little Rav, a four wheel which would bring us to some amazing ruins and trailheads in our adventures.

We headed south through Wyoming to Utah to our first stop-the Dinosaur Quarry-Raaaaaaaaaaaaarrrr! near Vernal, Utah. What a great place.

The quarry is the location of an ancient riverbed, in which many many dinosaurs, turtles, crocodiles, clams, etc. died and whose bones were preserved in the sandy bottom. Layers upon layers of sediments piled above the bones and with time dissolved silica percolated through the sandy layers and turned the ancient riverbed into a hard sandstone and fossilized the bones buried within.

The river bed basin got lifted up with time as the Rocky Mountains began to rise in the east. The rock layers of this dinosaur grave naturally eroded with time via the forces of rain, ice, snow and wind. At the turn of the century a palentologist Earl Douglass (worked for the Carnegie Museum in Pennsylania) was searching the plains of Colorado and Wyoming for dinosaur finds. He turned towards Utah in 1908 and just sticking out into the Utah sky were the tail bones of a Brontosaurus-ALL TOGETHER in their correct anatomical position. Douglass and his colleagues would excavate hundreds of bones, yielding many COMPLETE skeletons (so next time you go visit a museum, if the bones came from Vernal, Utah, you'll know where it is).

They have a large section protected form further excavation (usually just containing incomplete skeletons-those poor dinosaurs probably had their bones scattered about by scavangers) which Doug and I visited. Great stuff!
---
Photo of Allosaurus head and other bones at Dinosaur Quarry, near Vernal, Utah.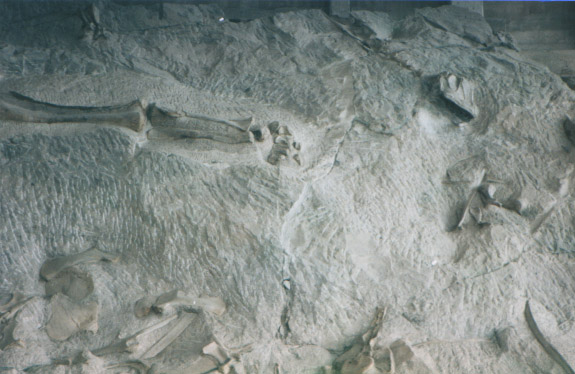 ---
I learned a great deal of how the understanding of dinosaurs has changed since I was a kid, and I sure had carried a lot of (now wrong) notions about them that I had learned as a child. Doug and I learned how scientists believe the back fins of the stegasaurus were most likely used for dissipation of heat and not defense (lots of capillaries were believed to cover these plates with a skin covering around them). No one knows exactly how they were placed on the back (alternating, single row, double row, flat rather than vertical) since no backbone of a stegasaurus has been found complete. Equally, no baby stegasaurs bones have told us whether they had the fins as well. We also learned that palentologists think the big meat eaters like the T-Rex and Allosarus had more of a horizontal posture rather than standing up real tall with little fore-arms. It would affect their hunting habits a great deal.

The quarry also demonstrated an artist's perception of what the dinosaurs looked like in terms of colour, habitat, and relationships with other dinosaurs. I found that fascinating how scientists attribute certain colour schemes to the skin (oh, they know the dinosaur skins are more like an elphant's than like a snake's due to impressions of skin in the mud (no fossilized skin exists)): they attribute colours to match present-day animals living in a similar climate. And you will find that many variety of colours exist (there is no wrong answer). And just to think, as a kid, I was taught they were grey and brown and pretty dull. Some present day scientists have thought up some rather elaborate colour schemes!

The quarry is also the home of some wonderful petroglyphs (rock drawings) from those Fremont peoples (700-1000A.D. they lived in souther Utah).
---
Doug admiring great petroglyphs at Dinosaur.

---
We next headed down south to Capitol Reef National Park. Dougie and I hiked a slot canyon (nice walls of about 500 feet tall, with snow falling on us now and then :) ) and then up a ridge to see Capsidy Arch. The next day we checked out their petrogylphs (some amazing headdresses and our first pig petroglyph (in the animal realm you usually see mountain goats, scorpions, lizards, birds, deer)) and walked to a Natural Bridge (Hickman Bridge).
---
Guess I have to feel on top of things these days. Me atop of Capsidy Arch, Capitol Reef National Park, Utah.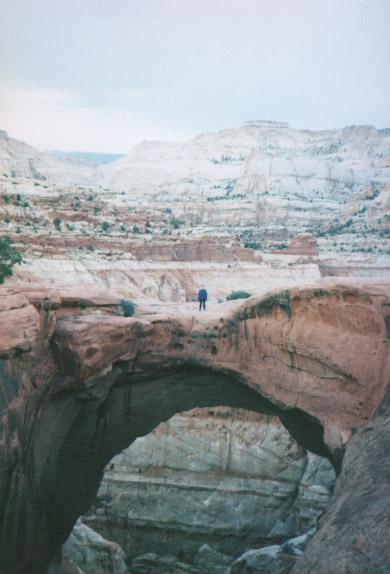 ---
Hickman (natural) Bridge, Capitol Reef, Utah.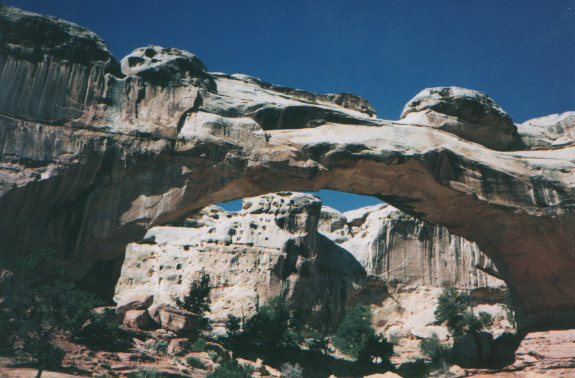 ---
We were on our way to hike the Upper Muley Trail when we drove through the nation's newest National Monument: Grand Staircase-Escalante. We took a detour and hiked the gulch trail, a trail down through lovely canyons. We were on the lookout for petroglyphs, but failed to find any. None the less we had a great hike and sure hope to return to learn more about Escalante.

We drove south again towards Bryce Canyon. What a magical place! The ancient Indians called it "the valley of many painted faces" or something to that extent. Just imagine walking down into a canyon whose walls have been eroded away, leaving pillars of different shapes, sizes and colours. They are called "hoodoos" which means goblins. Indeed they are and it was a lot of fun to guess what we saw in those statues. In fact, part of the canyon is called Queen's Garden, after a hoodoo nearby which has the likes of Queen Victoria. Hmmm, if you asked me, I would remarked it looked like HM Queen Elizabeth. :) Then again, they are related so why not! :)

We walked the Peek-a-boo Trail and Fairyland Loop and got incredible views of this ever constantly being eroded landscape. Scientists use the length of exposed roots on the trees lining the canyon walls to determine how much sandstone is being eroded away. In most places in Bryce, this is 6 inches a year.

Doug and I sure enjoyed our hikes in Bryce, each one full of several wonderful views.
---
Panoramic views of Bryce!



---
We next headed to Zion National Park to see what that canyon had to offer. We had reached it the Saturday before Easter and my it was packed. We had to camp outside the park and the roadways were sure crowded. We opted to avoid this congestion by starting a hike at 7am. It was a good choice.

We headed to explore Angel's Landing, a hike which would involve a strenous climb up a narrow and tall (drops of 2000 feet on both sides) rock structure. It was a great climb. They had chains to assist in some areas. When we got to the top, we had a nice view down the canyon. Don't do it if you are afraid of heights. I got a big thrill out of it! :)
---
View from Angel's Landing at Zion National Park, Utah.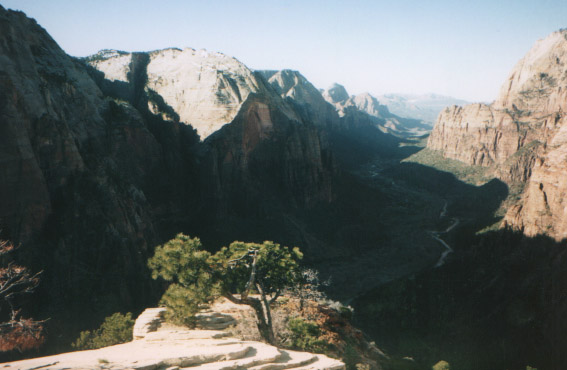 ---
By this time, the crowds were coming. I never saw so many people. Doug and I escaped via the West Rim Trail for a while. We returned back to the car after a good 8 or so hours of hiking. The park was surely filling up with people so we decided to escape from them. Sharing nature with a hundred unequipped people was not a lot of fun.

So Doug and I started the ride back home. We had to detour through northern Arizona and the Navajo Nation to get to our next destination of Hovenweep National Monument on the Utah-Colorado border. But before that, we were to pass some amazing sites. In particular, we watched the full moon rise over Monument Valley. My, that was spectacular, romantic, and oh so eerie! Doug tells me that one needs to pay for a drive tour hosted by a Navajo to see the Valley. I sure plan to do that someday, cause the isolated rocks and mounts were just awesome from a distance. Supposedly a lot of westerns have been shot there.

We arrive late at night outside of Bluff, Utah, and camp at Sand Island off the San Juan River. The next morning, Easter Sunday, we woke to sunrise and to a wonderful wall of petroglyphs. This wall was expansive and equalled that of Newspaper Rock (which we saw last March). A great collection of kokopelli, or flute players, were found. Being a flute player myself, I was highly delighted.
---
Flute players immortalized in stone at Sand Creek, Utah.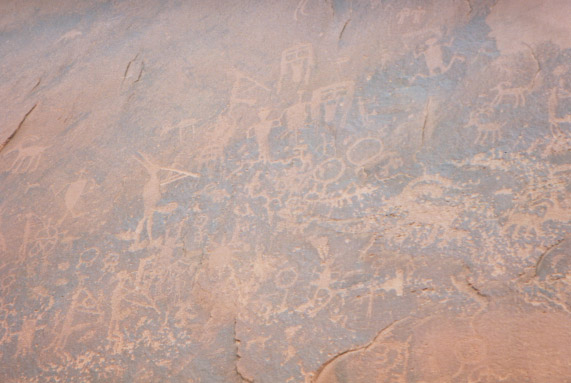 ---
We treaded off to Hovenweep, our last stop on the adventure. Here we would find six ruin sites dating back to 1100-1300A.D. (Pueblo III period). We went on a 11 mile loop hike to see three sites, Holly, Hackbery, and Horsehoe, and saw all types of structures. Hovenweep is famous for its towers. We found both square, round, oval and D shaped towers. Some of the ruined rooms are reckoned by archeologists to have been of astronomical use-certain holes in the walls would allow the sunlight to enter on the days of the solstices and equinoxes. This way, the native peoples would be able to tell what season it was was and more importantly when to plant things. As astronomers, Doug and I were very intrigued.
---
Me stumbling upon Holly Site at Hovenweep National Monument, Utah.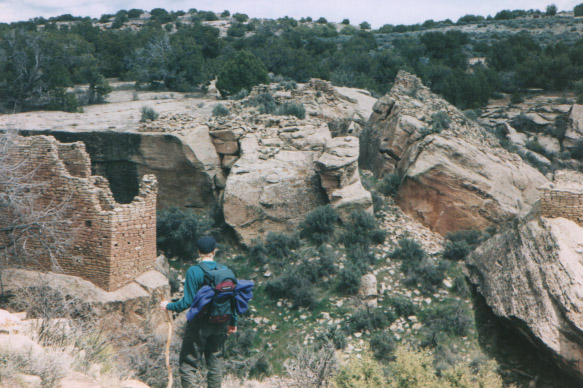 ---
Another view of Holly.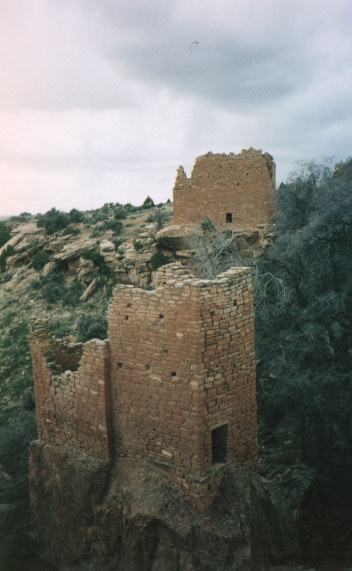 ---
Horseshoe ruin at Hovenweep (looks like a horseshoe in aerial view).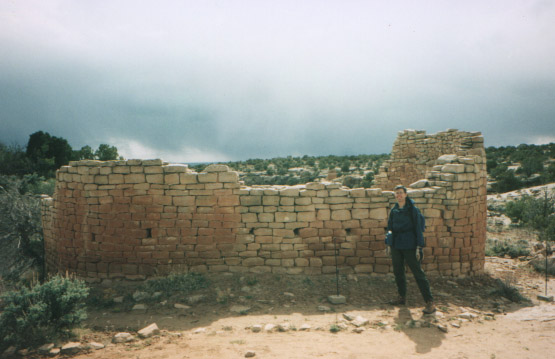 ---
We took the little Rav on some dirt road out to see Cutthroat Castle, a wonderful ruin site. We were allowed to walk right up to the ruins. These Anasazi people often would build underneath overhangs of rock, in addition to building towers. This way they could use the rock as a back wall and roof. Very clever. We ended the night falling asleep to the yips of the coyotes! *yip* *yip*

Monday we headed out to see the main Hovenweep site with towers at the mouths of canyons. Archeologists think they were used for defense, but have no idea why the Anasazi's needed such towers. Perhaps it was wars between neighbours which caused these people to mysteriously disappear in the 13th century. We drove out into the Navajo Nation to see the outlying site of Cajon Mesa. This ruined site was unique in that it was not near any canyons.

I next spent the next few days in Laramie. I had to work on a written paper for my SPIE poster. My that was rough ending my holiday with work while still on holiday. But with Ian's help we got the paper done and I had one more day with Doug. So we hit the slopes...

The slopes of the Snowies to go snowshoeing. It was a lot of fun, and exhausting. I was off the next day to return to Cambridge.

So now I am back here in Cambridge, facing the 1) fixing COHSI, 2) writing the thesis, and 3) applying for those postdocs. A lot to do in 4-5months. I am expected to submit in September. I think I mentioned that before. I still cannot envision it yet...

Spring is coming to Cambridge and the days are getting longer, which is ever so nice and encouraging to get these final months in.

Well, I do hope you enjoyed my travel tale. This will be my last summer in England so I hope to get out and do stuff. Depends of course on the writing up.

I hope my letter finds you well. Drop me a line and I am sure to get back to you!

Love
Kim